Microsoft has unveiled a website that can help you find applications and hardware that is compatible with Windows 7 and give you some info on those items before you decide to download or possibly make a purchase.
Plus if it appears on this site then you know it will work with your Windows 7 installation.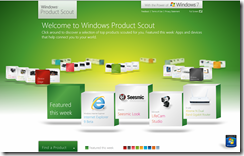 The site is Silverlight based so everything moves around as you mouse on the screen.  If you click on a product then you will get six squares with more detail about that item:
The boxes show you the product, product details, how it looks on Windows 7, related products, product reviews and then info to get started.
There are quite a few things listed here but I imagine as time passes more will be added to create a Windows 7 App store on the web.
Visit the Windows 7 Product Scout website here – http://www.microsoft.com/windows/product-scout/